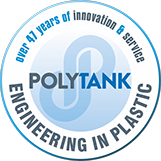 A new division of Polygroup developed to meet the demand for quality rotational moulded products.

As the Polygroup product range penetrated more and more of the UK marketplace, other manufacturers recognised the quality of the group's rotational moulding capabilities and turned to Polygroup to make products for them.
Slowly the Polygroup Contract Division was developed to meet this demand and during 2010 four more rotational moulding machines have recently been installed to cope with this growing Contract Division.
Polygroup's specialisation in large product rotational moulding has meant that many household names can develop products which would previously have been not cost effective or not of sufficient quality to manufacture using the rotational moulding method.
The new Contract Division is making a variety of technical mouldings to meet the demands of the market place.
The new Contract Division is also part of the Polygroup mindset of flexible deliveries and shorter lead times, still with guaranteed quality, giving many potential customers the ability to meet their own market demands with this level of flexibility and quality.
POLYTANK GROUP Ltd., Naze Lane East, Freckleton, Preston, Lancashire PR4 1UN
Tel: 01772 632850 Fax: 01772 679615 web: www.polytank.co.uk e-mail: sales@polytank.co.uk
Polygroup is a trading name of Polytank Group Limited. Registered in England 1016434
Registered Office: Unit 2, Olympic Court, Boardmans Way, Whitehills Business Park, Blackpool FY4 5GU